Welcome to Old Algonquin Books   
We hope all you book lovers have been well and safe during the stay-at-home time.  For many of us it has been a good chance to read more.    We have recently added a number of books on horses and horse racing, as well as many reference books consisting of a variety of dictionaries of all types.  Who knew that there were so many specialized, interesting books on the subject of words, phrases, meanings in a wide variety of subject areas.  Our largest section of books, however, is still mystery and other fiction, as well as a variety of other subjects. 
Our books are available at www.biblio.com and www.abebooks.com .You can search for books by author, title, or subject in the box below.  All our books have mylar protective covers on the dust jackets and are not price clipped or marked unless stated.
Author John Dunning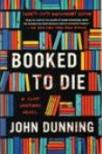 Pictured here is the 25th anniversary edition paperback of Booked to Die.  Click on John's name in the toolbar above for his biography and a list of his published books.  Five of his mysteries feature bookman Cliff Janeway. His other books include Two O'Clock Eastern Wartime, a mystery set in a world of radio broadcasting in 1942: On the Air, an encyclopedia of old-time radio; a novel about Denver and the Ku Klux Klan in the 1920s, and three other earlier mysteries. We offer a few of John's books, and you should be able to find many of them in your favorite new or used book store in either hardback, paperback, audio, or electronic format.