Welcome to Old Algonquin Books
ALL OUR BOOKS ARE OFF THE INTERNET FOR NOW AS WE HAD WATER LEAK INTO OUR BOOK ROOMS. FORTUNATELY, ONLY A FEW OF THE BOOKS WERE DAMAGED BUT THE REST WILL STAY BOXED UP AND UNAVAILABLE UNTIL REPAIR WORK IS DONE OVER THE NEXT MONTH OR SO. WHAT A CHORE THIS IS!

The Rocky Mountain Book and Paper Fair will be held this year on July 31-August 1.

Old Algonquin Books, selling used and antiquarian books,  was named after the Algonquin Hotel in NYC where authors and wits gathered in the 1920s and 1930s.  The bookstore was opened in east Denver in 1984.  After ten fun years the shop was closed and it became an internet and mail order business.  The owners, John and Helen, are still active in the Rocky Mountain Antiquarian Booksellers Association.  Read more.

Author John Dunning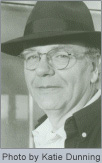 Click on the arrow next to John's name in the toolbar above for his biography, a list of his published books, and publishing contacts.  Five of his mysteries feature bookman Cliff Janeway. His other books include Two O'Clock Eastern Wartime, a mystery about radio in 1942: On the Air, an encyclopedia of old-time radio; a novel about Denver in the 1920s, and three other earlier mysteries. We only carry a few of John's books, but you should be able to find many of them in your favorite new or used book store in either hardback, paperback, audio, or electronic format.