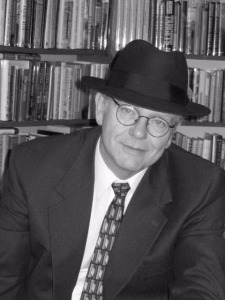 John Dunning, 1/9/42 – 5/22/23.
In 2017 Simon & Schuster released a 25th Anniversary Edition paperback of Booked To Die which is available from new bookstores or directly from Simon & Schuster.
Mysterious Press has put some of his earlier material in ebook format.  These include the short stories Dreamer and Bookscout, as well as his early novels Holland Suggestions and Looking for Ginger North.  You can find these at www.Mysterious Press.com/authors/john-dunning/default.asp.
His earlier book Denver is available again. John's publisher, Scribner, has done a Print on Demand trade paperback that can be ordered directly from the Scribner website as well as an electronic version for anyone who wants to read the book on an e-book reader. We understand this is available at the usual channels for electronic books, Apple, Amazon, etc.   Denver is a novel set during the time of the Ku Klux Klan attempt to take over Colorado in the 1920s.
His last book, The Bookwoman's Last Fling, was published in hardcover by Scribner in May 2006, and the paperback in Spring 2007. This novel takes bookman/detective Cliff Janeway to Idaho and the horse racing world in California. The first two Janeway books were also published in a combined hardback book titled Booked Twice. These books should be available in your favorite bookstores or online.
Professional contacts:
Publisher: Scribner Publicity. 1230 Avenue of the Americas. New York, NY 10030. Katie Monaghan, publicist, (212) 632-4950, email: Katherine.Monaghan@simonandschuster.com
Literary agent: Karen Gormandy at Harold Ober Associates, New York, NY 10017. karen@haroldober.com.